Pharmacy Technician
CERTIFICATION PREP

---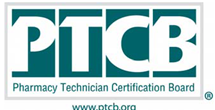 With the International Institute of Technology & Application Pharmacy Technician program, you will get the skills you need to work closely with pharmacists in a hospital or retail setting.
This program will not only prepare students to take the Pharmacy Technician Certification Exam (PTCE) or NHA ExCPT exam, but it will also earn graduates of this program sponsorship to sit for the PTCE Students will take 13 courses to help prepare them for their future career as a pharmacy technician. This is a learning experience second to none featuring:
Hands-on activities and virtual exercises to complete the practical labs required.
Students will be required to complete a 160-hour externship at CVS or Walgreens to gain true hands-on experience as they begin their path toward a career as a pharmacy technician
Throughout this entire experience, students will have faculty and success coaches during the program, externship, and graduation
Graduate fast, prepared for the  Pharmacy Technician Certification exam  Start anytime, study at your own pace and finish in as few as 10 weeks.
PHARMACY TECHNICIAN COURSE INCLUDES:
Affordable Tuition. Payment plans to fit any budget
All textbooks, lessons and learning aids
Unlimited tutoring and instructor support
Exclusive certification-aligned study guide
Proctored Certified Pharmacy Technician exam
NHA Certification certificate after passing the exam
Pharmacy externship through one of our pharmacy partners:
Get the career you want doing something you love. The International Institute of Technology & Application Pharmacy Technician Course is the best in the world. It is also online, you can learn anywhere, anytime, at your own pace.
What I like about International Institute of Technology & Application Pharmacy Technician program is that it's very flexible, it's affordable and I can do it on my own time. I work full-time, I'm a mother of 4 children and it worked for me.
– Kimberly Nevella, Recent Graduate
Enrich your life with pharmacy technician school. Pharmacy technicians are in demand—and play a vital role in health care. By helping pharmacists with prescription orders, pharmacy assistants—also known as pharmacy technicians—help ensure patients get the correct dose of the right medicine.
Careers
You'll help the pharmacist fill prescriptions and work with patients as a pharmacy technician. You'll work in hospitals, pharmacies, supermarkets and any place that dispenses prescription drugs. You'll also enjoy 12 percent job growth through 2026, which is faster than average for all occupations says the Bureau of Labor Statistics.